News: Quebec Wildfires - What You Need To Know If You're in the USA
Smoke from the wildfires in Quebec, Canada, is currently blowing hundreds of miles into the USA, reducing air quality to potentially dangerous levels in several areas, including New York City.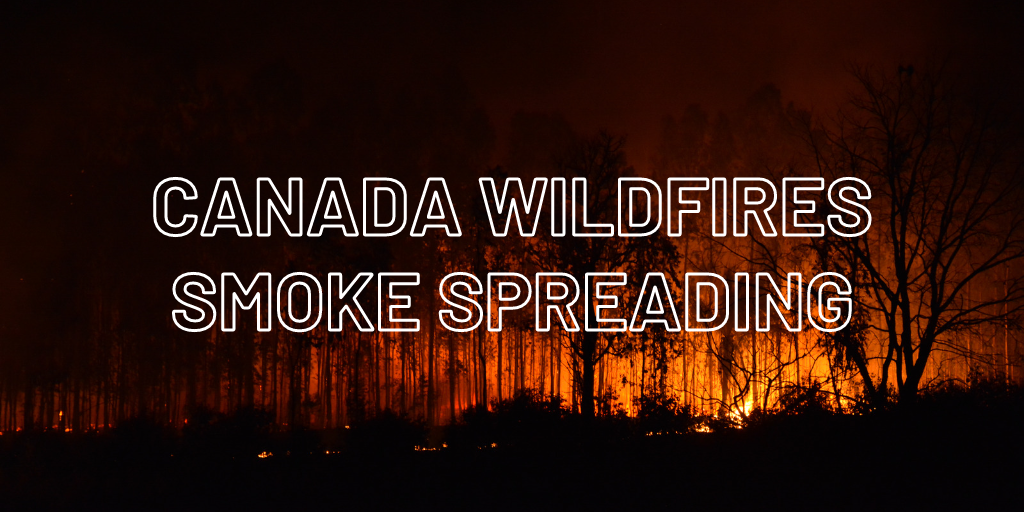 Yesterday New York City was top of the list of the world's worst polluted air, with potentially harmful smoke blowing southwards from the more than a hundred wildfires still burning in Quebec, Canada.
The UK Government have now updated their USA travel advice to caution on the issue, and link to the US AirNow.gov site for monitoring local air quality.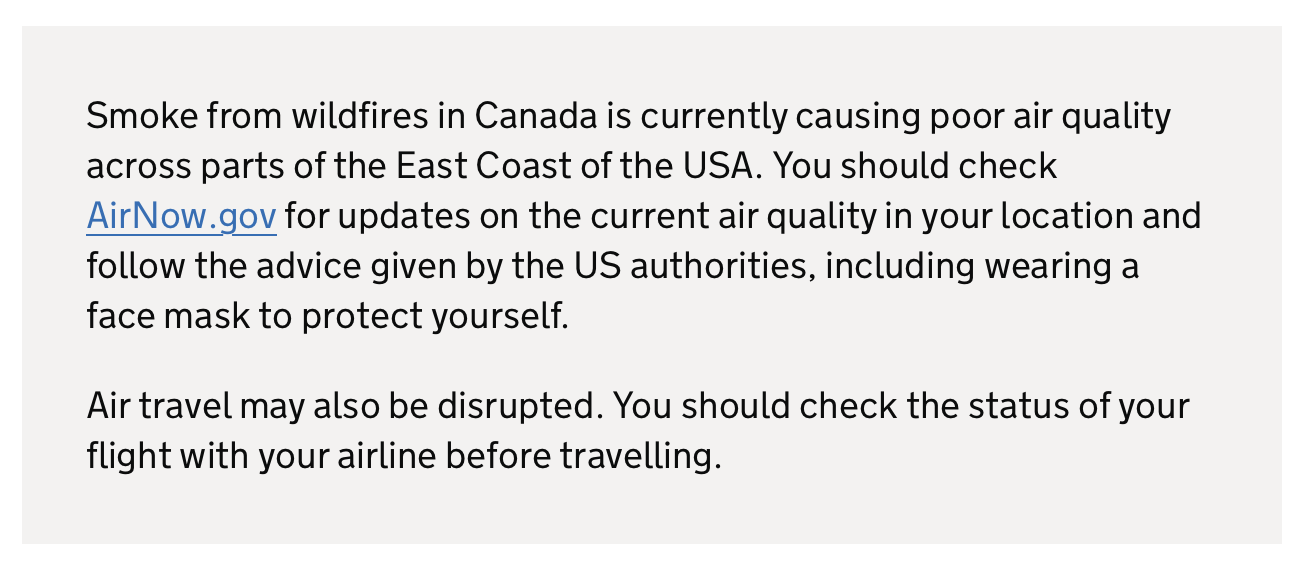 So What Exactly Is Happening?
The smoke engulfing parts of the USA has been blowing down across the country from Canada's wildfires for a week now, raising serious concerns about the air quality in the Northeast and Mid-Atlantic regions.
At one point last night the air quality index was above 200 - a level that is "very unhealthy," according to IQair. At one point the city had the worst air quality of any major metropolitan area, and before midnight NYC had the second worst levels of pollution in the entire world, with only New Delhi, India having a more harmful score.
There are now at least 10 school districts in central New York State who have cancelled outdoor activities, say announcements from those districts.
Why Does This Matter?
We won't delve into the complexities of why the wildfires are so severe in Canada right now, as we certainly aren't experts, but we wanted to share this story in light of the risk to health posed by such low quality of air.
The smoke from wildfires contains tiny particulate matter called PM2.5 - this is the smallest pollutant we know of, but also the most dangerous. If breathed in, it travels into lung tissue and even enters the bloodstream and it can be linked to several health problems including heart disease, asthma and other respiratory conditions.
At their worst, air pollution-related health issues can kill, and yesterday the concentration of PM2.5 in NYC's air was unbelievably more than 10 times the safe guideline specified by the WHO.
William Barrett, the national senior director of clean air advocacy at the American Lung Association, said "If you can see or smell smoke, know that you're being exposed... It's important that you do everything you can to remain indoor during those high, high pollution episodes, and it's really important to keep an eye on your health or any development of symptoms."
Who Is Most At Risk?
Particularly vulnerable to the smoke from wildfires "are children, senior citizens, people who are pregnant or people with respiratory or cardiovascular diseases" where symptoms may get worse, or new ones develop when the smoke is breathed in.
"Really, make sure you take appropriate steps to check in with health care providers about any concerning symptoms that come up during these events," Barrett told reporters.
Okay, I'm in NYC - What Should I Do?
First of all, keep an eye on AirNow.gov to monitor the air quality where you are, and when levels are at the highest you should remain indoors as much as you possibly can - if you're only there for a short time perhaps you could visit an indoor attraction, rather than getting stuck in your hotel.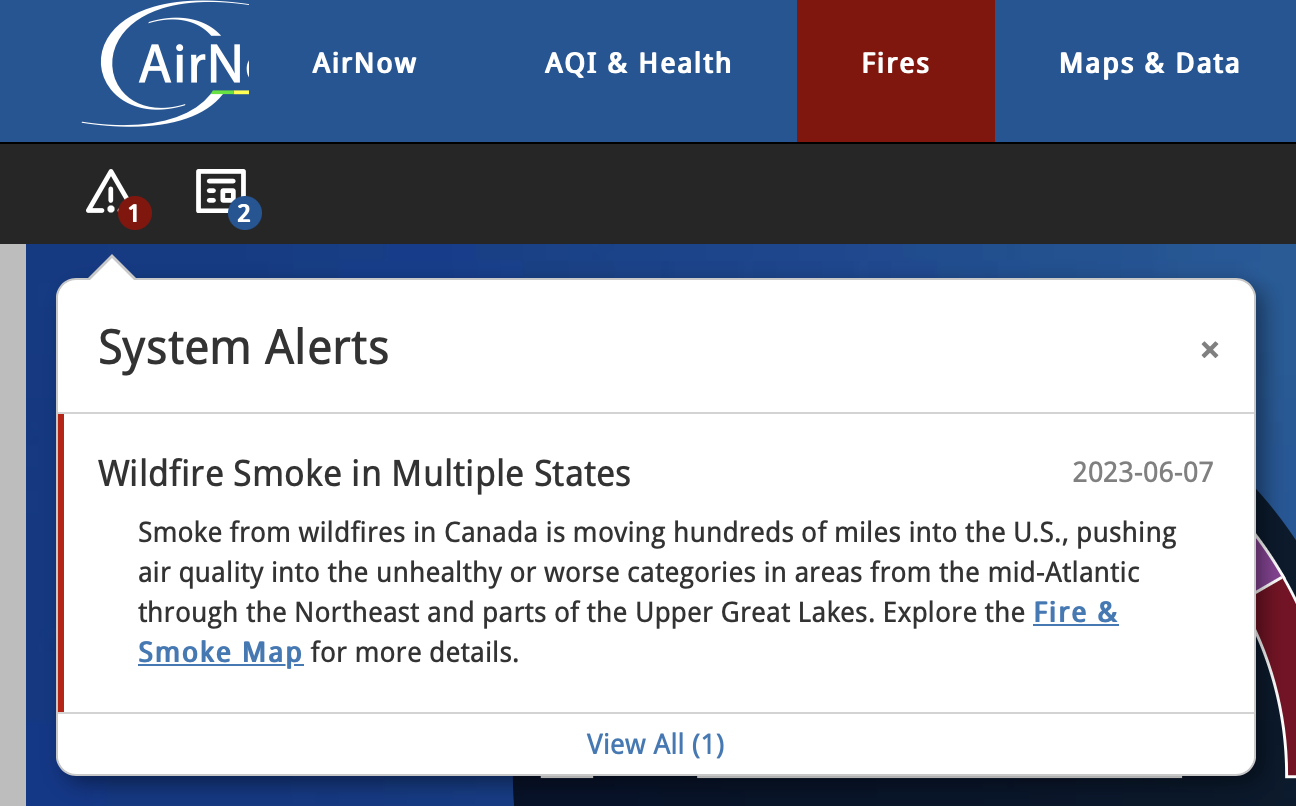 Additionally, the potentially harmful air isn't restricted to New York.
Air quality alerts were also in effect across parts of the Midwest and Northeast yesterday, with smoke spreading west into Chicago and Detroit.
"Weather conditions are such that widespread ozone and or particulate levels are expected to be at or above the unhealthy for sensitive groups category of the air quality index" the National Weather Service in Chicago said. "Active children and adults especially people with pulmonary or respiratory disease such as asthma should limit prolonged outdoor activity."
We're also seeing wildfire smoke already spreading to parts of New England, including all of Massachusetts, Rhode Island, Connecticut and Vermont, and cities like Boston, Providence, Hartford and Baltimore are predicted to have unhealthy air later today.
Over the next few days, meteorologists are telling us a cold front is expected to move south, which is likely to nudge smoke further south and east throughout this week.
We're seeing across news channels that officials in New York State will be handing out face masks in parks, public transport stations and at major tourist attractions - if you see this, grab some!
Their benefit may be minimal, but every little helps.
If you have people in your party that are in the vulnerable groups highlighted by the experts above, it's even more crucial to keep them indoors as much as possible during the periods of worst air quality.
Monitor local and regional news channels for any change in advice.
Hopefully the Canadian authorities - fighting an early wildfire season at least twice as bad as normal - can bring the fires under control and stem the source of the smoke itself.