News: CLEAR Expands Free Queue-Jumping Program To Cut Security Wait Times
Hate waiting in line at TSA Security checkpoints in US airports?
Me too.
That's one of the reasons I signed up for Global Entry, which comes with TSA Pre-Check bundled (more below), but 'Reserve - Powered by CLEAR' offers a FREE way of jumping those tedious security queues, and 2 more airports have just joined the time-saving program...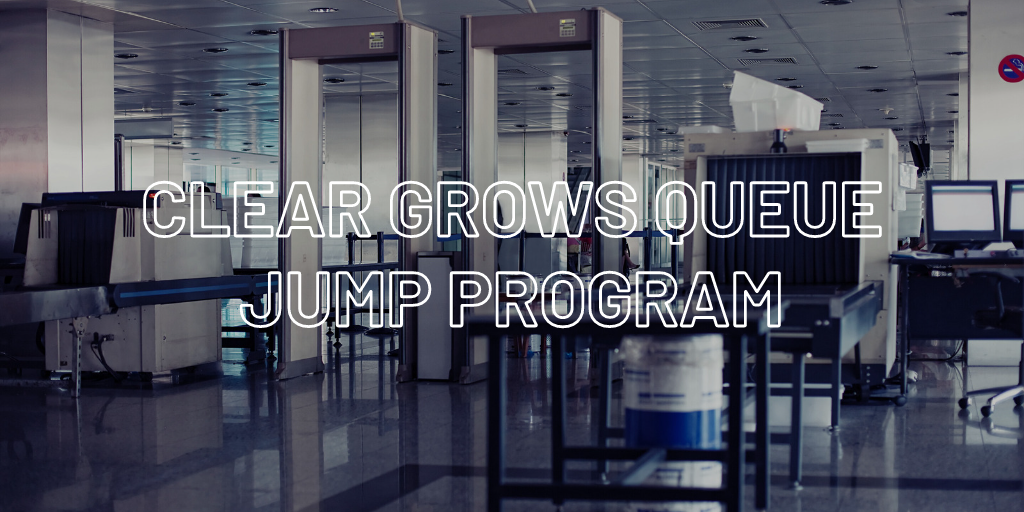 I first reported on 'Reserve - Powered by CLEAR' back in 2021 over on Instagram, when it launched as a pilot program first at Seattle-Tacoma and Orlando International Airports, and then again as it was expanded to more airports in 2022.
Whilst typically not as beneficial as the (paid) programs TSA Pre-Check (which UK & Irish travellers can get bundled with Global Entry - more on whether that's right for you in this post) and CLEAR Plus, during the upcoming busy summer travel season it would almost certainly save you time.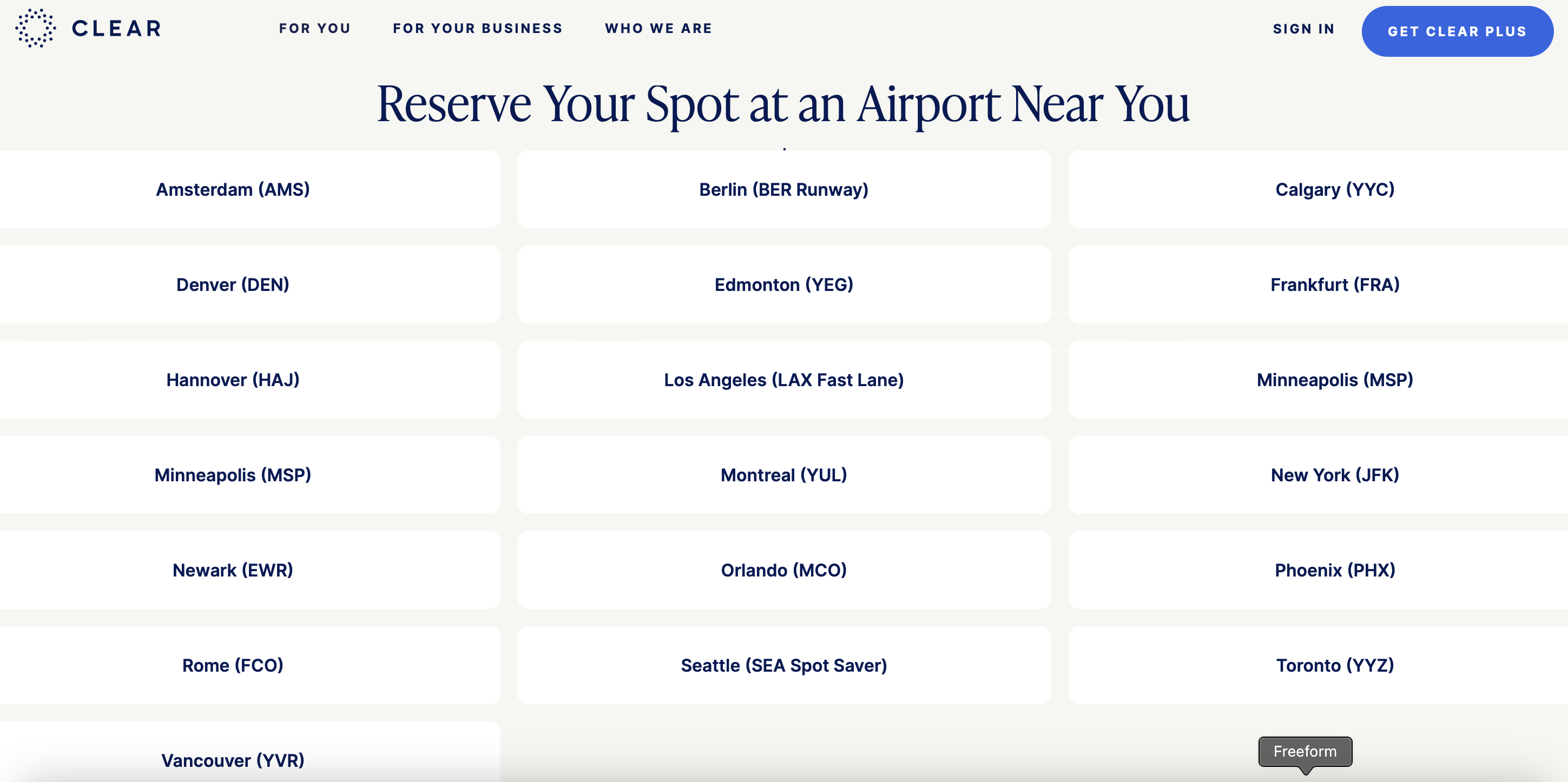 The scheme has now been rolled out at several new locations - last week, Denver and Minneapolis-St. Paul were added to the program, taking it to a total of 10 US airports, as well as airports in Canada and Europe.
How Does 'Reserve' Work?
First, let's briefly explain how the 2 paid schemes work:
TSA Pre-Check takes you to a separate lane within the TSA Security area, where your passport and boarding card are scanned by an Officer as usual then you use a security lane with reduced security checks - for example you don't have to take liquids or electronics out of your bag, nor take your shoes or belt off.

This, therefore, speeds up the second part of the Security process, as well as removing the stress of the manic standard Security lines, but in theory may also speed up the first part, with shorter queues than standard security - though during busy times this is no longer always true, thanks to growing popularity of the scheme.



TSA Pre-Check costs $85 a year

(though currently renewals are being offered at $70), but us British & Irish citizens can only access this scheme by getting Global Entry, which lasts 5 years and includes TSA Pre-Check.


CLEAR Plus, whose members pay $189 per year for the privilege, allows you to skip the document verification step with an Officer, instead having their eyes and face scanned by a machine as identification.

This speeds up the first stage of security, but members then join a standard security line, and need to follow the same protocols as everyone else - removing liquids, electronics, belts & shoes, etc.

CLEAR Plus became more popular during covid, as it was contactless, with no handing over of your documents.
Reserve powered by CLEAR is different to both of these schemes - and free.
Passengers still have to present their documents for checking AND still have to use a standard Security lane, however, in the days or weeks leading up to their trip they book a time slot to arrive at Security (with a 20 minute grace period in case of delays).
They make the booking on Clear's app or website, selecting their date of travel, departure airport, flight number and 15 minute time slot.
Once at the airport they join the shorter 'Reserve' lane, where an "ambassador" will scan their QR code and escort them to the front of the standard TSA lane, where they present their ID then move through Security as per normal.

As such, the scheme is similar to CLEAR Plus, in that it speeds up the first stage of security but does nothing to ease the stress of going through a standard Security lane - and thus you still need to remove electronics & liquids from your bags as well as belts, shoes, etc, from your person.
However, unlike both CLEAR Plus and TSA Pre-Check, it's entirely free, and doesn't involve any background checks, interviews, eye scan or fingerprinting.
Which Airports Now Offer 'Reserve'?
The service is currently offered at 10 American airports:
Charleston CHS
Denver DEN
Los Angeles LAX (called LAX Fast Lane here)
Miami MIA
Minneapolis MSP
New York JFK
Newark EWR
Orlando MCO
Phoenix PHX
Seattle SEA (called SEA Spot Saver here)
It is also offered at several airports in Canada and Europe, including London Heathrow LHR, and the company says it will be launching in more airports soon.
What You Need To Know
There are two things to be aware of, however:
It may not be offered at all terminals at the airport you're travelling from - you can check this when you go to book your slot. For example, at New York JFK it's currently available at Terminal 4 only.
Each airport chooses its own operating hours, so you may find you're travelling outside of those hours - for example if you're on one of the post-10pm flights to the UK out of Orlando.
Again, you will see if slots are available to you for your flight time when you use the app or website to book.

Another point to note is that the CLEAR app is not available in UK App Stores, so most British and Irish travellers will need to use the website - though at the time of writing, the website is having some issues (2pm BST June 13th - I've let the CLEAR team know).

Finally, do be aware that whilst one person can book for the whole travel party, up to a maximum of 10 people, they must all arrive at Security together, at the same time.
When Would I Book?
Each airport opens booking at a different time - some allow you to book a slot up to 2 weeks before travel, whilst for others booking only opens a few days beforehand.
Take a look at the Reserve Powered by CLEAR website to check the details for your location*.
* It seems to be having issues letting you select an airport at the moment, so maybe check it out later - I'll update this page when the issue is fixed.
Should I Use It?
With air travel in the USA now regularly surpassing pre-COVID levels and TSA screening record numbers of passengers each week as the busy summer travel season gets underway, any scheme that speeds up the process of moving through the airport is welcome.
Besides, there's nothing to lose - it's free to book, and you don't *have* to use it if you turn up at the security checkpoint and the queue is longer than the standard lines.
Therefore, if the program is available at the relevant terminal at your departure airport and is running at the time you travel, my advice would absolutely be to book a slot.
You've nothing to lose, and at best bet to skip the queue and head straight to the front at the checkpoint - what's not to love?!
---
> Related Post: Speed Through Airports with Global Entry & TSA Pre-Check