How to Avoid Airport Queues (and make them more comfortable if you can't...)
This doesn't seem to be going away just yet!
[Skip ahead to the tips]
I was still hearing from you guys that queues at Manchester Airport were sometimes taking HOURS - and that was before this last crazy week.
Likewise, many of you travelling with BA, particularly through Heathrow, had continued to experience long queues, delays, lost luggage and cancellations - described by one gentleman a few days ago as "loosely organised chaos!"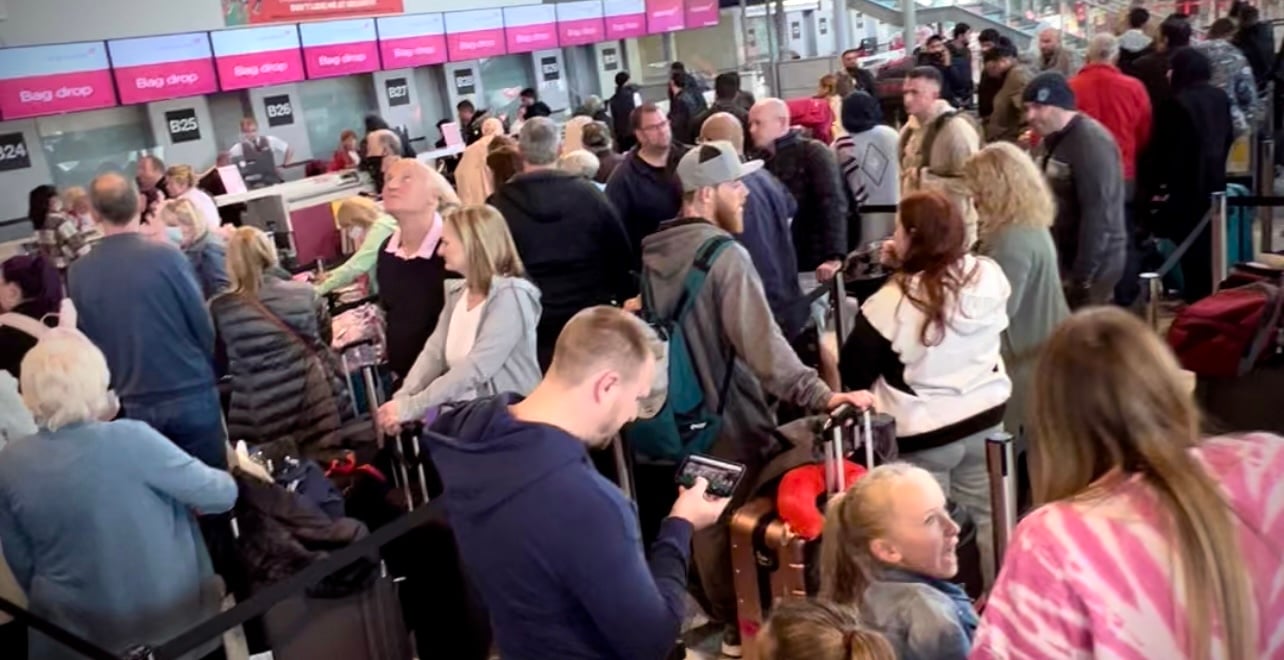 Manchester had seen some improvement over a couple of weeks, so I was starting to feel optimistic, but the high levels of half term travel seem to have reset the chaos clock to crazy!
They'd already admitted it wouldn't be back to normal for some time yet - in part due to delays obtaining security clearances for new employees.
They aren't alone - airlines have been warning of a chaotic summer of travel, which is not particularly reassuring, and 2 days ago Secretary of State for Transport Grant Shapps met with aviation industry heads to speak about what could be done to ease the exceptional chaos we're seeing at UK airports.
So, having queued cumulatively for more hours than I care to remember in airports across Europe & the USA, I thought I'd pull together some tips for making waits more comfortable - and speeding them up where possible.
(This won't be a short post, because I want to give you all the info you need to make the experience as positive as possible - so you may want to grab a coffee or make it your morning 'throne' read!! I have, however, included lots of 'skip ahead' links throughout)
In this post we look at avoiding the queues, speeding through security (if we can all do that, queues will be vastly shorter!), and making unavoidable queues more comfortable.
Since this is a comprehensive guide, here are links if you want to skip ahead:
AVOID THE QUEUES
First, let's look at what you can do to avoid the worst of the queues - you may be able to bypass them completely...
1. Book Fast Track if possible...
[skip to the next tip if this isn't for you]
While it might not be quite so exciting as booking a fast pass in a sunny theme park, I would go right now and book Fast Track for any airport queue that you possibly can (availability and budget allowing).
Seriously - go now! Run, don't walk...
Tip - Check out what cashback is available when booking car parking, lounges and fast track. For example, when I just checked, TopCashback is currently offering 10-12% back for booking direct with Manchester Airport.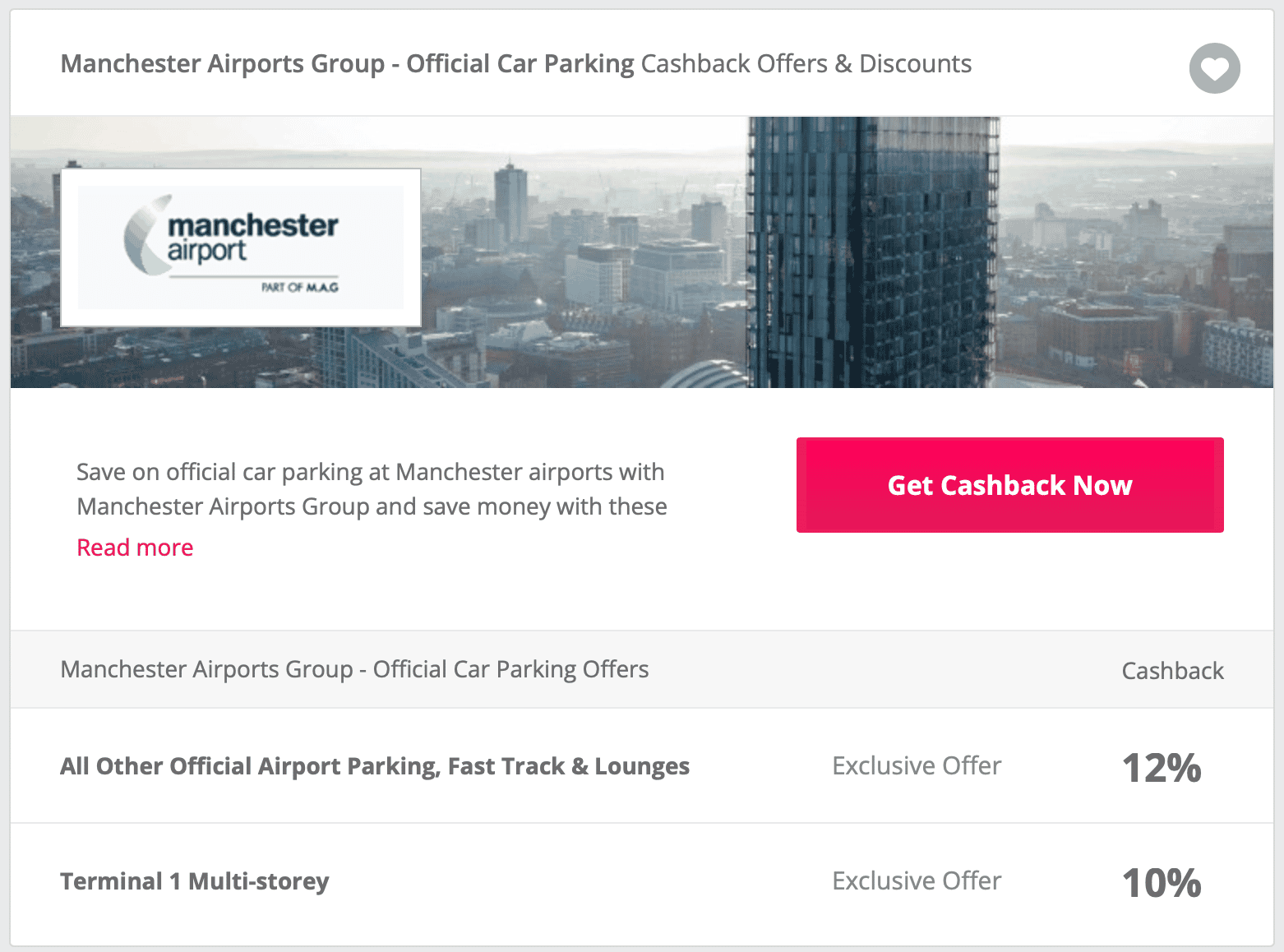 So, what are the options?
Skip to: Manchester | Heathrow | Gatwick | Other Airports
Manchester Airport
You can buy Fast Track for the security queue before your departing flight, and sometimes the immigration queue when landing back from overseas.
They typically cost £5 per person each, but can be worth their weight in gold!
I've flown from Manchester Airport more times than I can count and I always buy Fast Track for Security.
Honestly?
Sometimes over the years it's been so quiet when I went through the security area that Fast Track actually saved me no time at all.
So why keep investing in it?
Sometimes it's been absolutely thronged.
Seriously, it's occasionally felt more like a queue to get into the World Cup Final than a Northern England airport - on those days Fast Track has saved me over an hour of waiting - and this was pre-covid.
The bottom line:
There's always the chance you'll feel your hard-earned cash was wasted if you catch a quiet slot, but compared to risking being stuck in a lonnng queue, personally I'd cheerfully slap down £5 each to knock it down to 5 or 10 minutes.
I flew from Terminal 2 on April 25th. We all had Fast Track, and that queue was empty - we reached the scanners within a minute or so. I was so relieved, as the normal security queue was heaving and would clearly have taken around an hour
Is it for everyone?
Yes and no.
Almost anyone can use it, and there can be some tasty deals when bundled with car parking to bring the cost down, but not everyone needs to pay for it.
Huh?
You may be able to skip the standard security line without a booking, for no cost, if you either:
Have a child in a pushchair or
If one of your party needs additional assistance due to a mental or physical disability.

In these cases you will be directed to either the Fast Track lane or the adjacent Special Assistance queue.
DO make sure you ask if either of these apply - staff may not always identify your situation and pull you to the side proactively
One thing to be aware of, particularly if travelling in a large group, is that you are typically limited to 5 other passengers accompanying the child or person that needs special assistance.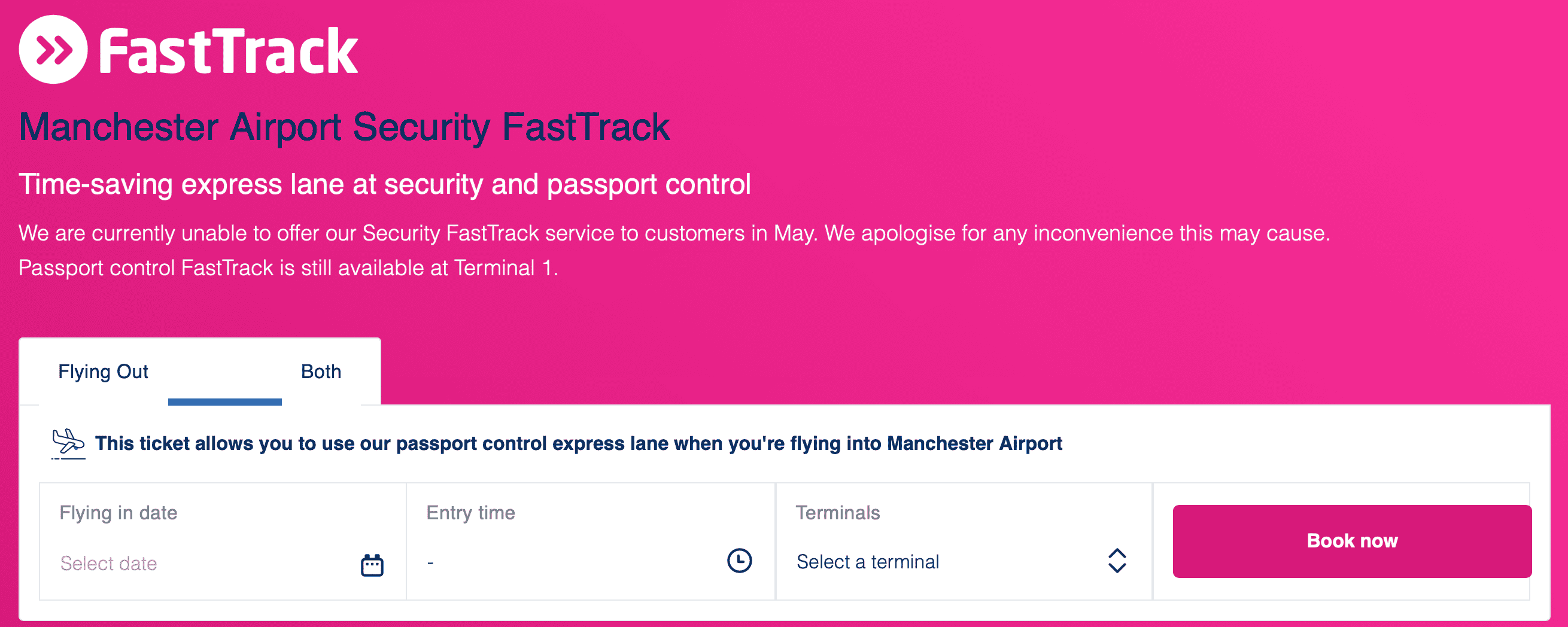 Where can I get it?
Click through to purchase Security and/or Passport Control Fast Track from Manchester Airport.
**Please note: the airport website states that they are "currently unable to offer Security Fast-Track", and are only offering Passport Control Fast Track for Terminal 1.

We did learn in March that they withdrew it from sale for April & May, though continued to honour existing bookings - the Fast Track lane remained open.

However, they are now taking bookings for June onwards - it let me test-book for June 1st in Terminal 2 a couple weeks ago, and I've since booked it for June 16th, so give it a go - and keep trying if it doesn't work for your dates yet**
Top Tip - if you sign up for the airport's email mailing list you will sometimes be sent a discount code. Likewise if you book via the Manchester Airport app you can often secure a discount.

Fast Track is also offered with some airline tickets - so if you're flying anything more exciting than Economy do check with your airline to see if this is something they offer (Virgin, for example, don't offer this at Manchester, but Tui do for their 'Premium' passengers).
Heathrow Airport
Heathrow have pulled Fast Track from sale as they attempt to resolve their staffing crisis, but this is where you can book it once it becomes available again.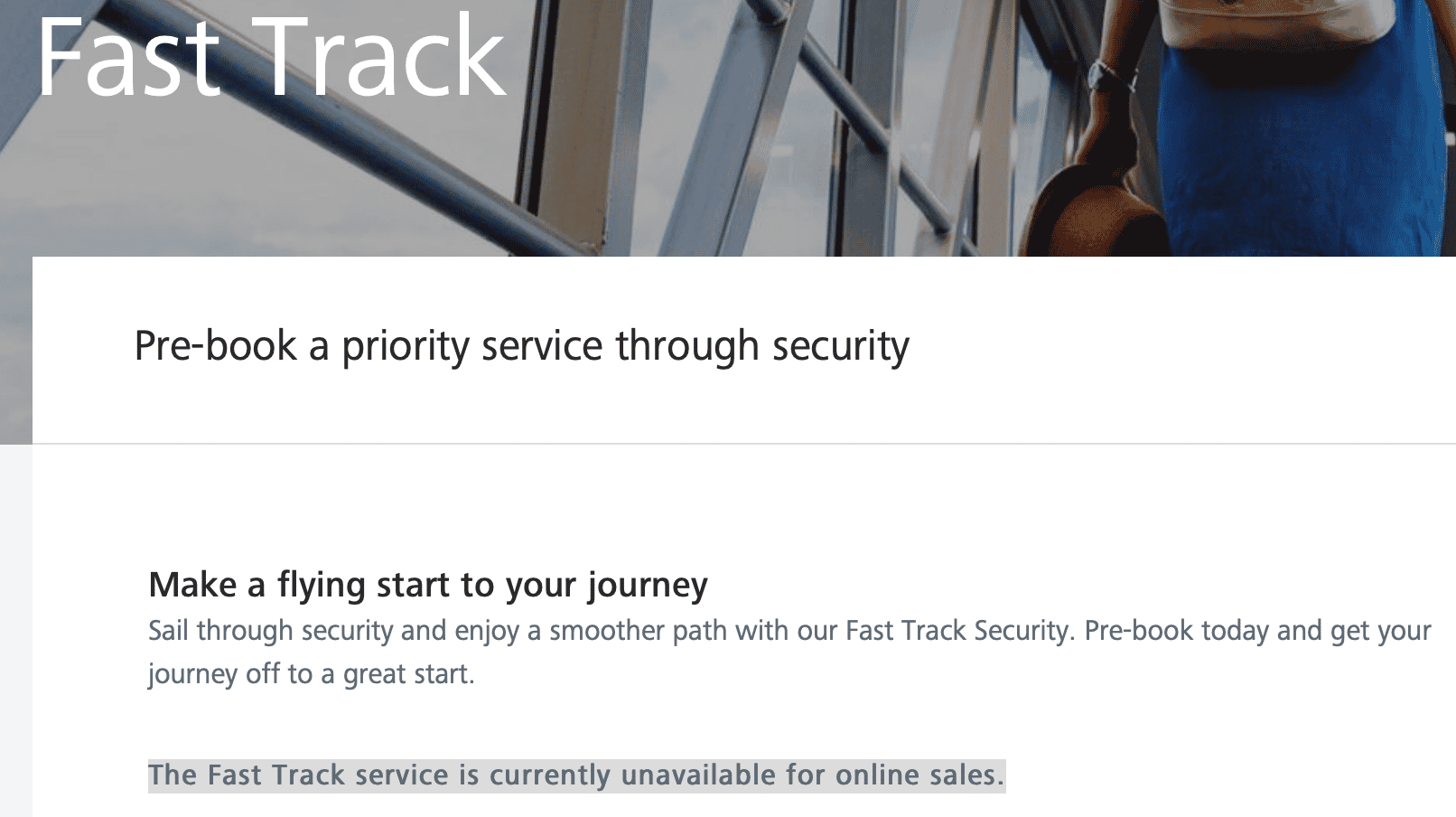 Again, some 'premium' airline tickets offer you access to Fast Track at Heathrow without needing to purchase it separately - you can find out what express options Heathrow offers for these premium customers here (including the list of which airlines offer this service)

Gatwick Airport
Speedier access through Gatwick works much the same way as at Manchester (albeit called Premium Security rather than Fast Track) - i.e. it can be purchased for around £5 or bundled with car parking.

If there is capacity, you can also add it on the day for £6.
Once again it is included with some airline tickets, so do check with your airline if flying anything more Insta-worthy than Economy.
Likewise, certain frequent flyer schemes offer complementary access.
For example, an easyJet Plus card grants you entry to Premium Security at Gatwick, and BA Executive Club Gold or Silver status offers access for both you and a guest - the same for one world Emerald & Sapphire members.
Gatwick also offers a Premium Passport Control product, similar to that at Manchester, but this is currently withdrawn from sale, presumably related to the staffing issues plaguing most UK airports.
Other airports
Several other UK airports offer options for speedier passage through security and passport control queues.
Let me know if you need help digging out the details for an airport not in this list of the top 3 airports flying from the UK to the US :)
2. Arrive at the 'Goldilocks' Time!
No, I haven't lost it - yet!
The reason I'm saying 'Goldilocks time' is because I advise that you arrive at the airport at just the right time - neither too early nor too late...

I know, it's a boring one - but it can make a real difference.
[skip to the next tip]

After seeing the nightmare queues across the news and social media over the past few months, some passengers are turning up at the airport five, six, even seven hours before their flight.
Whilst I understand this urge to cover all bases, it really doesn't help - and can actually make the airport experience worse for both you & your fellow travellers.
It can lead to a frustrating experience - you may arrive at Check In / Bag Drop desks before you can actually use them, meaning you'd have to queue all over again when they open to you - having made the queues worse for passengers of earlier flights.
So what time should I arrive?
Historically I've had a two-part rule of thumb:
I plan to arrive in Departures (the check-in hall) just a few minutes before my airline would allow me to check in / bag drop
For a long haul flight, including the US, I would arrive 3 hours before my departure (though if I was getting access to a swanky lounge - thanks previous employers! - I'd typically add in some extra time to enjoy it)
At the moment, however, airlines are offering a range of guidance that can even vary from airport to airport.
The most important advice is to follow the recommendation of your airline and airport.

However, here is how things stand today with some of the leading airports and airlines (June 1st 2022):
Virgin Atlantic is now opening check-in at Manchester and Glasgow 4 hours before take off instead of 3, to allow more time for busy check-in and security queues
They are no longer publishing an airport check-in/bag drop opening time for Heathrow - stating only that you can check in online up to 24 hours before your flight.
However, anecdotally I'm hearing that if you try to bag drop more than 3-4hrs before your flight you are unable, and must wait until your flight becomes available for drop off - I would check with Virgin beforehand.
BA states check-in is from 24 hours before departure, but you appear to be able to bag drop 3-4 hours before your flight
You can drop your bags off at some airports the night before, as Overnight Bag Drop is also available from 18:00-21:00 for flights departing the next day before 13:00 from Heathrow T5 and Gatwick.
At most airports, Tui appear to have lengthened their airport check in time from 2 to 3 hours before departure.
Tui also offer overnight bag drop off for flights to the USA with a TOM flight number from Manchester T2, Gatwick and Birmingham - for flights departing before midday you can drop your bags in between 1

4.00 and 21.00 the day before.
As above, this information could change through the summer, so please check with your airline before you make your plan, and check the announcements from your airport, and if you're after details for airline/airport combos I've not mentioned, let me know :)
FLY THROUGH SECURITY
We've all been there.
(Even frequent flyers, though not all will admit it)

Feeling under pressure, nervous, even a little overwhelmed.
Dreading your bags going through the scanners - suddenly & inexplicably convinced you've left something in a bag that you shouldn't.
But it doesn't have to be this way...
I realise how INCREDIBLY cheesy this is, but I genuinely have a 3 point plan for flying through security!

It's not foolproof (see below!), but it's certainly made passing through security easier, less stressful and speedier for me, as well as for us as a family.
Both boys got their bags pulled for extra checks passing through Manchester last month because we'd completely forgot about their little liquids bags (sanitiser and an inhaler for E).

A mistake I won't make again, but it was fine because we were so stress-free about the process and the staff were polite & friendly
To speed through security :
Know the rules & plan around them
Pack with them in mind, and
Prepare for screening before you get there
Though do this with the knowledge that sometimes, at some airports, they decide to do things a little bit differently - don't let that rattle you.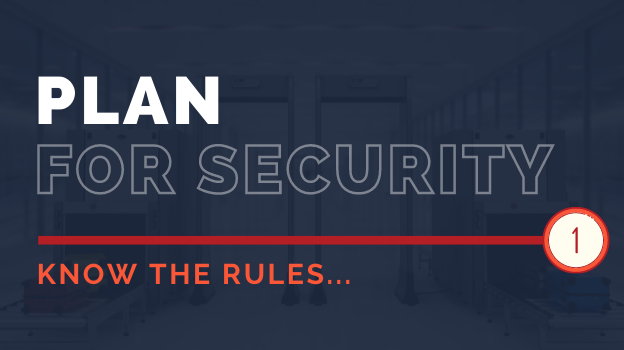 1. PLAN for Security - Know the Rules
[skip to my top tips for PACKING for security]
The better plan you have, the less likely you are to get caught out, and the quicker you'll be through the most stressful part of the airport journey.
Hand Luggage Rules
Liquids:
You can only take liquids through in containers of 100ml or less - not larger containers with 100ml of liquid inside

All liquids (that aren't prescribed medications, special foods, etc)

must

fit inside one clear bag measuring approximately 20x20cm

and with no more than 1 litre capacity

(check out this post for what I use)
"Liquids" includes pastes, gels, waxes, mascara, lip gloss, any type of spreadable foodstuff, sprays, creams, oils, drinks, e-cigarette cartridges, etc.
A TSA Officer (in the US) once told me that if a substance wouldn't hold it's shape without it's container, it's considered a liquid, which I find a great rule of thumb
You are allowed one liquids bag per person - children have the same allowance



Liquids bags must be taken out and placed in trays to be scanned


There are numerous exceptions to liquids rules for essential medicines, special diet foodstuffs and baby food/milk - use these links for details of all UK hand luggage restrictions and TSA luggage restrictions for US airports

Other items that must be scanned separately:
Electronics larger than a mobile phone (mobiles remain in bags)

Including tablets, large cameras and video recorders, laptops, and e-readers
I've sometimes been asked to take out headphones, hairdryers and rechargeable battery packs
For flights to the US you

must

make sure all devices without a mains plug are charged, as if you can't turn them on (if asked) they won't be allowed on board - I've seen these checks happen more in US airports than at this end



Hoodies, jackets, scarves. Jumpers must be worn or put in a tray - not tied around your waist.


Boots or heeled shoes.

Trainers and sandals are usually okay
Personally I don't travel in sandals because if you do have to take them off you'll have to walk through a dirty security area in bare feet - yuck!
Things you ARE allowed to take on planes from a UK airport are shown on this page, and include tweezers, blunt small scissors, spoons and safety matches

2. PACK for Security - If We All Did This, Queues would Evaporate
[skip ahead to PREPARE for Security]
Rifling through luggage in the queue, removing items that need to go into trays for scanning, isn't fun.
I've spotted people having to lay down cabin cases and hunt through clothing to find their liquids pouch.

Others I've seen trying to pack their liquids bag in mid-air, needing to buy one*, or scrabbling around in backpacks, sweaty with stress, balancing them on their hip.
This creates longer queues and frustration for all.
Pack your hand baggage with an eye on what you'll need access to...
*Some airports, like Newcastle, sell liquids bags 2 for £1 out of a vending machine. Others, like Manchester, give them out for free.
How I PACK for Security

80s throwback, but in airports (and at gigs!) I use a bumbag!
Into this I put, amongst other things, my essentials - phone, wallet, passport, and boarding cards
It's SO easy to access if you need to show ID or a boarding card to enter security, and you can pop them away in a second, leaving you hands-free
They're fab throughout the airport - keeping essentials in reach with no awkward bag-balancing - then I use a Hero Clip to hang it on the seat in front of mine on board the plane

This is the

Kipling Abanu

I'm using now, which even looks smart enough for business travel, but I also have the older Kipling Multliple in, ahem, multiple colours! (The Abanu is slightly bigger, and has a more useful front pocket)
Tip - Since this is technically an extra item of baggage and some airlines can be strict, I swivel it round to behind me when boarding - but also make sure it will fit in my cabin bag or personal item if ever challenged (not happened yet!)
NB - apparently it's cooler to call them waist packs these days...

I put everything that needs to be taken out at screening in my personal item, rather than my cabin case
This includes my liquids bag, devices and any liquid medicines
I make them as easily accessible as possible, to make it easier to get ready for security
Sometimes my laptop needs to be in my larger piece, if I'm using a small personal item, so I make sure it's in the front pocket until through security

3. PREPARE for Security - Don't Wait until the Last Minute
[skip to the next section - making queues less stressful]
For some this might be a bit much, but I'm so stress avoidant when travelling these days that this works for me - particularly when traveling with the boys.
How I PREPARE for Security:
Have my liquids pouch prepared before I reach the airport
I take quite a few liquids on board - lip balm, lip gloss, moisturiser, hand cream, face mist, sanitiser, etc
I don't want to pack those in my personal item only to then have to faff in the queue to get them into a liquids bag, so I pack it at home
Use a a reusable shopping bag to prepare my items!
Before I approach the security area (so perhaps while queueing for check-in or bag drop) I pop all the items that need to be scanned separately in a reusable shopping tote
This includes liquids pouches, iPads, battery packs, headphones, my Kindle and camera.
The bags fold up tiny and weigh almost nothing and can be useful later for plane snacks, as well as on your holiday
If I then get stuck in a queue to enter the screening area, I hang this bag from my case with a J Hook or Hero Clip to stay handsfree
When I get to the scanner this means I can place all the items into trays incredibly quickly, without opening any of my bags

Prepare my clothes
If I'm wearing a type of shoe I'll need to remove, I loosen the laces or zips so I can kick them off faster when required
I pop any scarves or hoodies in my cabin bag or personal item if possible, so it's one less item to go into trays - if my hoodie won't fit I'll wear it through security
I make sure my pockets are empty
This means that when I reach the tray area I can pass through quickly and without drama!
Tray tip - you can't layer your items so use as many trays as you need. You cannot, for example, place a Kindle on top of an iPad, or a laptop on a coat.
Spread your things out so you aren't told to rearrange them, as this inevitably stresses people out - and that's when we make mistakes and lose things!

Do bear in mind that queues are moving slowly right now - people aren't fully following the rules so lots of items need extra screening, and staffing levels are low.
This means you could get separated from your belongings - they may be waiting for collection before you've even walked through the scanner!
I used to find this stressful but I'm ready for it now - I have AirTags in all my bags (bum bag, personal item and cabin case - as well as all our hold luggage), which gives me peace of mind, and 'Find My iPhone/iPad' is enabled on all devices.
I also put my least valuable items in the first tray/s and save the bumbag with my phone and passport for the last one, so I can hopefully beat it through & be waiting to grab it!

Everything else is replaceable - those 2 things are trickier during travel!
Things to remember about passing through Security:
Prepare yourself as much as possible before you reach the screening area, but...
Mistakes happen, we forget things, miss things, trays get delayed.
But you'll likely never see the passengers around you, nor the security personnel, again - so don't worry about what they're thinking!
This process is designed to keep us safe. The staff are over-worked, under-resourced and wildly underpaid. They also have days where they get out the wrong side of the bed - just like us.

Don't take anything personally - they're having a tough time right now.
REDUCE QUEUE STRESS
So you've done everything right.
Got to the airport at the right time, tried to purchase Fast Track, and you've planned, packed and prepared yourself to pass through screening as quickly as possible....when you reach it.
But now you've hit the bad luck jackpot and you're stuck in a lonnnng queue...

1. Think About the Kids
However bored and irritable us adults get, it'll likely be 10 times worse for children - particularly little ones who don't understand what's happening and have restless legs!
So think about what may help them feel less bored and more comfortable.
Refreshments: Have drinks & snacks on hand
Liquids over 100ml won't be allowed through screening, so use refillable bottles and tip out any remaining liquid before you enter the screening area, or bring bottles/cartons of water or juice and throw them away at the same point
Maybe don't let them drink too much however! Leaving queues for the toilet can be stressful, doubly so if you're the lone adult - though if you do have to go, ask the people around you to save your spot but take all your belongings with you
Kids get hungry when bored! Flying to the US in particular often involves morning flight times and breakfast is frequently left until after security.
Consider bringing a couple of extra small snacks. If you're bringing kid snacks for the plane - particularly those lovely customised snack boxes - you don't want them used up in any airport queues!

Entertainment: Prepare for the boredom!
Let's face it - screens are going to be your saviour here! Make sure you have with you whatever device your kids use to play games or watch videos on
You can't rely on airport wi-fi, so it's a good idea to download content for any queues (and the plane) in advance - iPad apps like Netflix and BBC iPlayer Kids are great for this, and a Premium subscription means you can even download YouTube videos
You may need power, if the devices are used a lot.

You can't rely on airports or your plane to have functional & available equipment to charge your gear, so travel with enough portable battery packs to charge whatever devices you may be using.
This Anker PowerCore Essential battery pack is my favourite - it offers both traditional USB-A charging and ultra-fast USB-C charging.
For the tech-heads amongst you, if has a 20,000mAh capacity and offers 20W charging capacity - it's been more than enough for my iPad Pro, iPhone Pro Max, our watches and the kids' iPads

Comfort: Multi-tasking luggage for the win!
When our boys were younger we had Trunki ride-on suitcases for all our travels, and they are OUTSTANDING when stuck in queues (or if you can't find any seating in terminal buildings). They're also great fun for kids!
We started with Trunki ride on case, which is perfect cabin luggage:

It also comes in other styles, including a spaceship, ladybird, fire engine, tiger, unicorn, pirate ship, bumblebee and many more!
The Samsonite Dream Rider is similar, and comes in various Disney patterns, but is twice as expensive!
When they got a little bigger we moved on to a larger one that doesn't seem to be available any more (in the style of an old retro scooter), and now they have small but solid cabin size cases that they can sit on when needed.
For babies & toddlers you may be comfiest travelling with a stroller, but a carrier is also a great option, and spreads the weight much better than just holding your child
2. Think About Yourselves
Largely the same applies!
Make sure you have a drink, perhaps a snack, something to entertain you and, ideally, a way to get comfy if you don't move for a while - many cabin cases can be used as a little seat for a while .
I try to think ahead about what might irritate me while stood in a queue and plan accordingly - for example, it might be hot & stuffy so I always have a fan (usually this small handheld or one that can hang around my neck for handsfree use) and a face mist to hand.
The Bottom Line
Essentially it comes down to preparation, utilising Fast Track options, knowing the rules, doing your research and planning for the worst:
Avoid queues where possible

Speed through security

Make waiting more comfortable
If I've missed anything off let me know over on Instagram and I'll update the post and happily credit you (if you like!).
In the meantime, good luck to all travelling soon and I hope it goes smoothly and speedily :)